Dream Commission
Jun 25, 2018
A couple of years ago, a friend of a friend (whom I didn't know) contacted me about doing a commission, as he (Joseph) had seen the portrait that I had done of our mutual friend and yoga teacher extraordinaire, Melanie.
.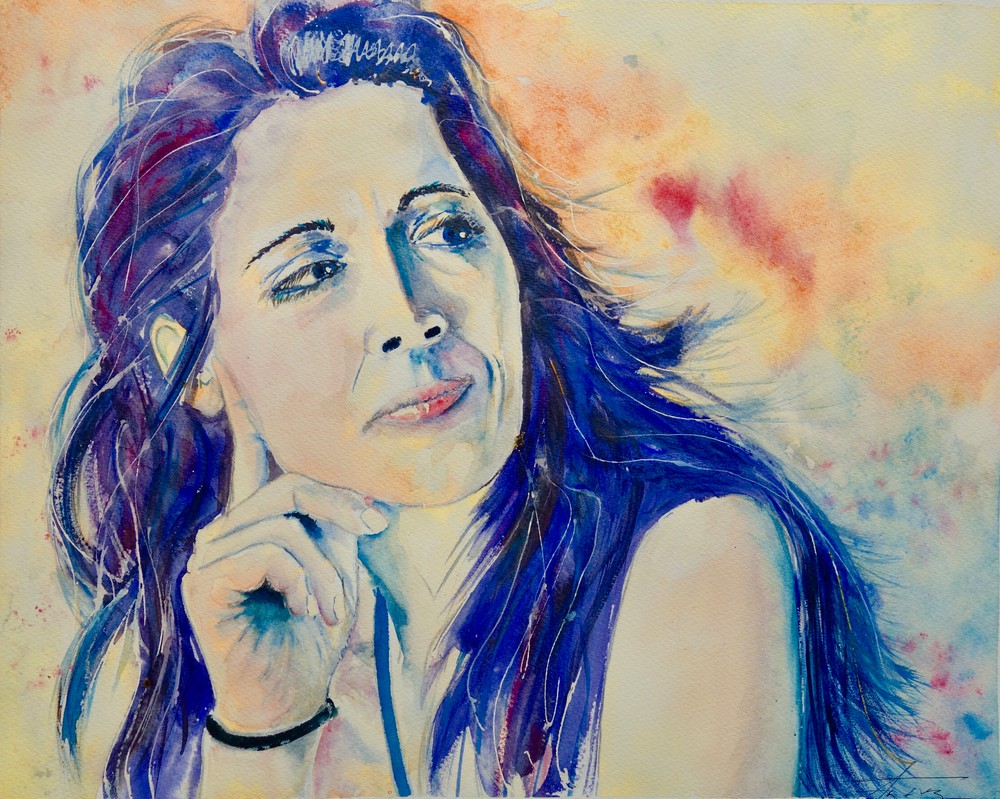 He asked me to call him about a potential commission, so I did, and he told me about a prophetic dream in which Joan of Arc had appeared to him and had told him to "Speak your truth, Joseph." I have done quite a few commissions in the past, mostly portraits of pets or children, but I had never been asked to paint someone else's dream. Joseph had said that he had asked several artists before, but they had turned down the project. Truthfully I was also disinclined, but the more I talked to Joseph, the more I thought it make for an interesting challenge. Although I usually work in watercolor, this kind of painting would call for something more malleable than watercolor, and, as I had been thinking that I would like to get back to painting with oil, this might be a good opportunity. So I told Joseph yes and then sat on the project a long time.
The first problem was conceiving someone else's dreamscape, and the other problem was finding a model for Joan of Arc. Ideas were burbling in my mind about how to approach the design of the painting. I thought I might use the Latin American miracle painting as a kind of model, as Joseph had a vision of a saint, but I didn't really think this notion was quite right either. In the meantime, I went to a workshop in Canada, for with my non-art, academic life, and met a graduate student, Alison, who was very striking. I was thinking to myself, "Wow, I would love to paint her," and then my friend said, "She looks like Joan of Arc." This was a clue from the universe that I should ask her if she would agree to be the model for this out of the ordinary painting project. Alison agreed and said that she would send me some pictures. Time passed. I had other things to do and so did Alison, so no pictures got sent, and then I saw that she had gotten married and a couple of the wedding photos were absolutely perfect for my reference image.
Having these wedding images spurred me to come up with a design, and Joseph had sent some new photos of himself, so I was finally able to do a small sketch: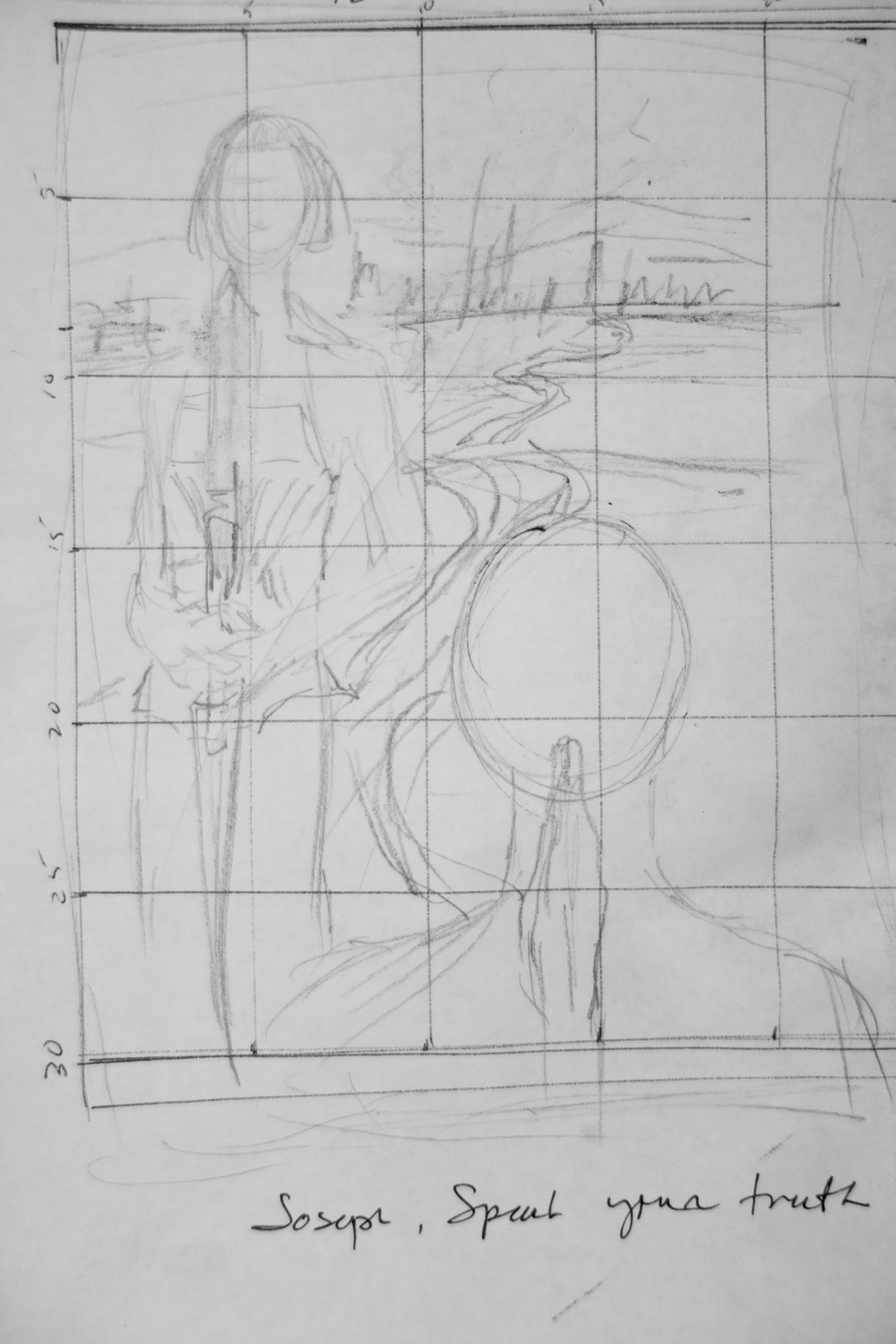 Joseph and I had a conversation about the drawing and the background. Even though in his dream Joan was in a battlefield, he agreed with me that a peaceful setting might be better for the painting and the message of the dream. So I soon began blocking the painting in and started painting. I began with Joan's face, painting with a very direct wet-in-wet method and using colors I would in watercolor, first painting in the face only and then working on the hair.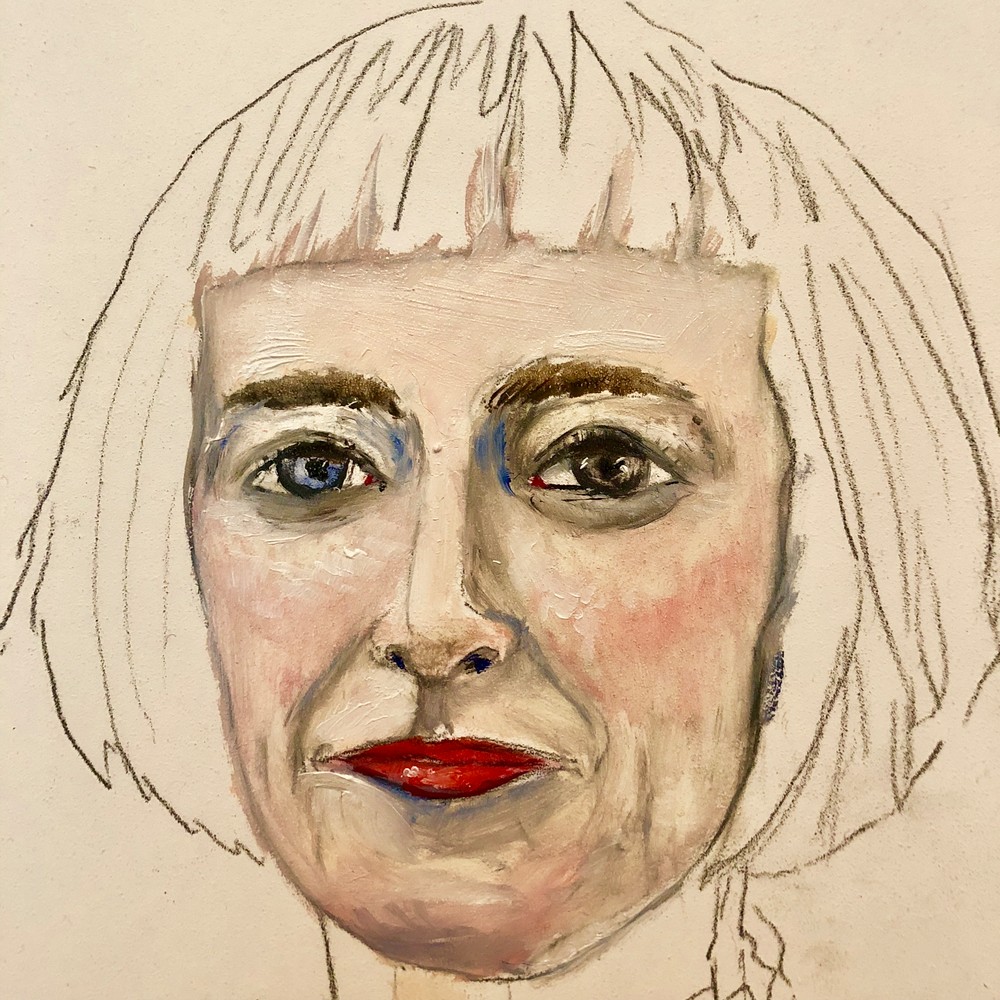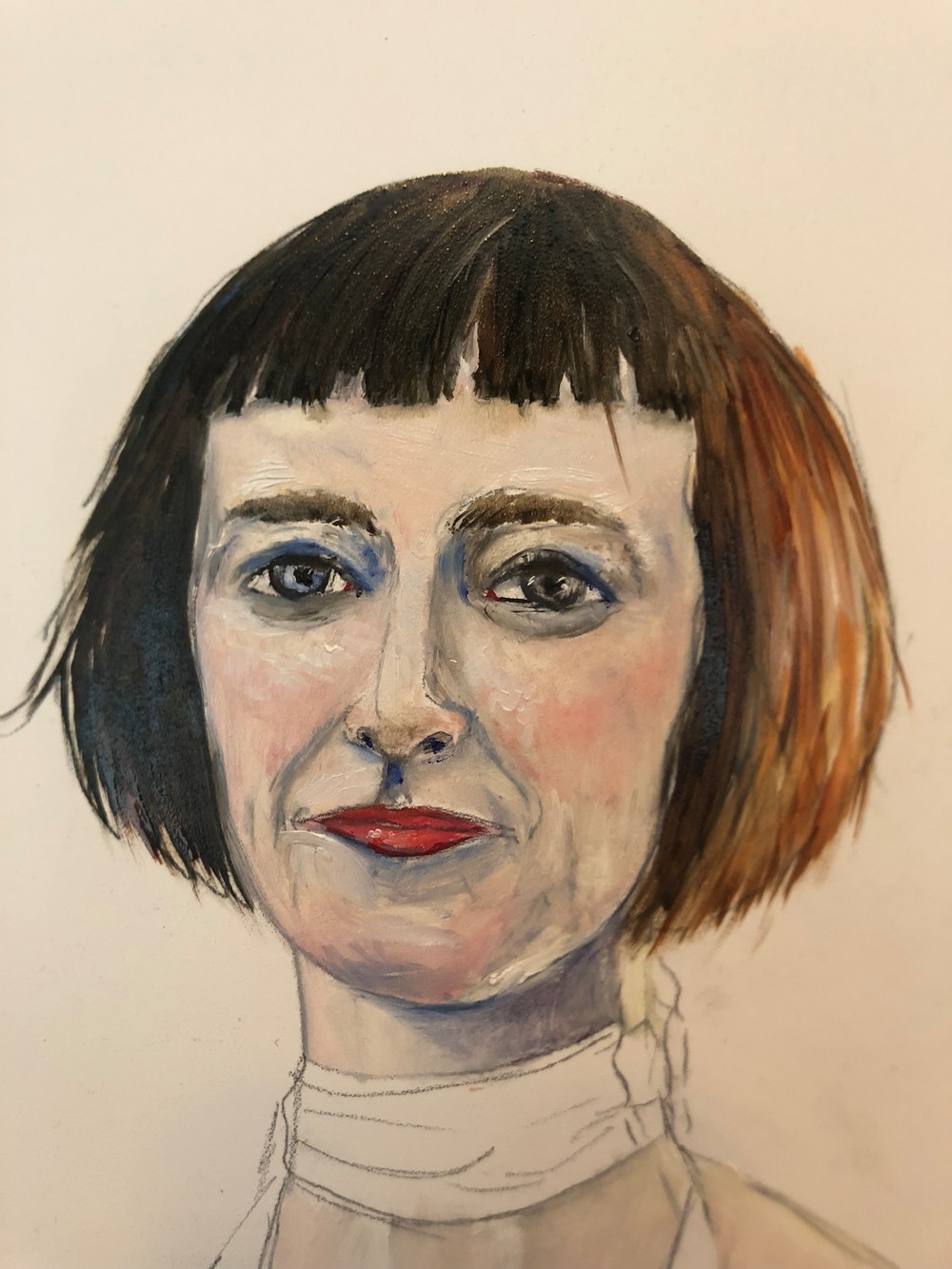 For Joseph's face, I wanted to try another method of painting, using a verdaccio (prussian blue and yellow ochre) underpainting and then glazes. So far I have only been able to do one glaze (cadmium red deep and red ochre) over the top, as it has to dry completely between layers.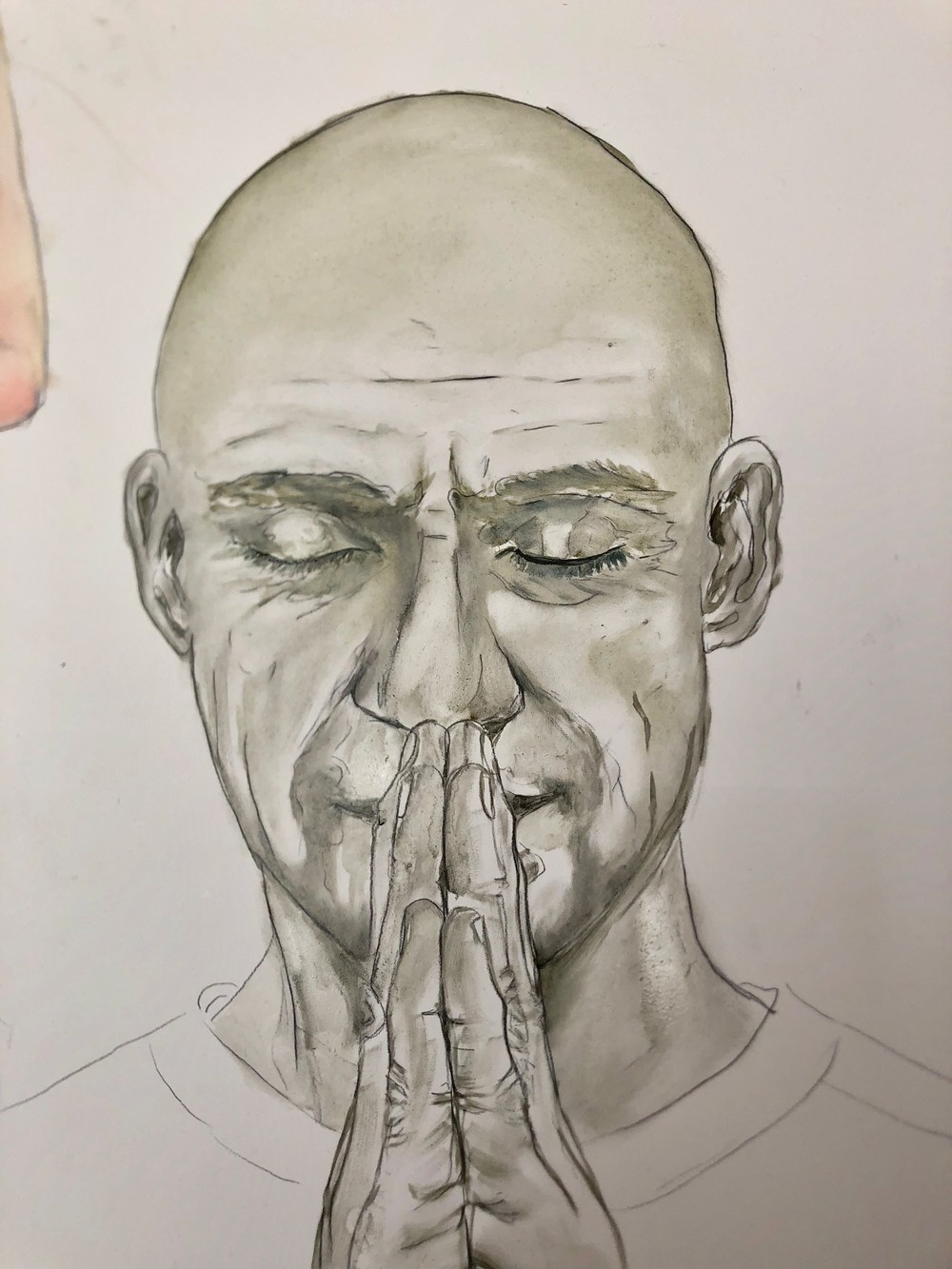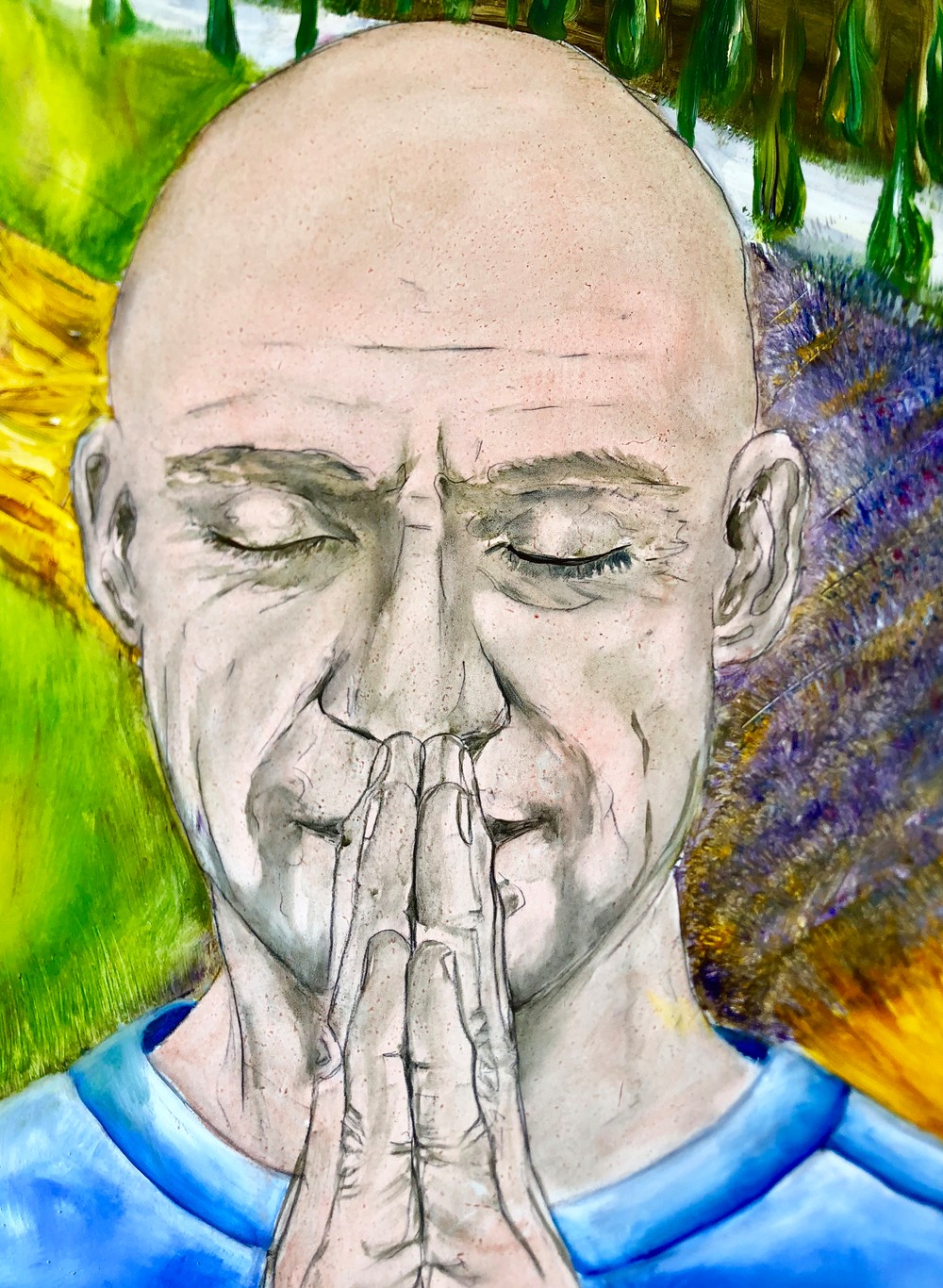 Because Joan of Arc was French, I wanted to have the landscape behind have a French countryside feel to the painting, so I decided to use Vincent Van Gogh's colors as inspiration and then made up a patchwork agricultural landscape. As I want to wait to show you the entire image until the next post, I will just give you a taste of the landscape and its color range.
.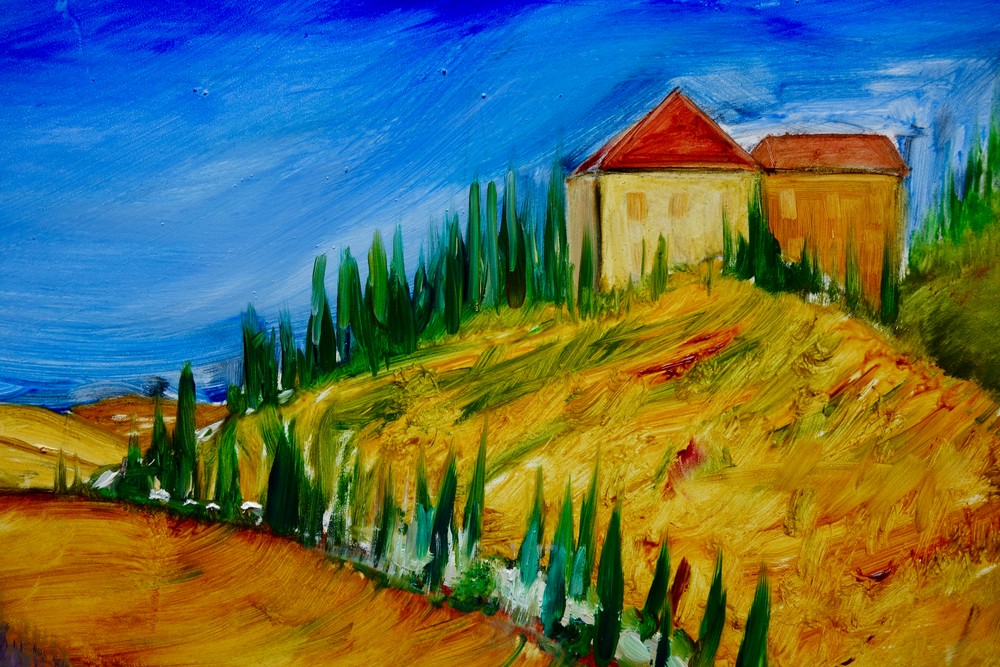 I am still working on the painting, so in the next blog I'll show you the final painting and talk a bit more about the process. I hope you will come back, and in the meantime, please browse my paintings. Cheers!
Follow me on Facebook at Amy Tigner Art and on Instagram at amyltigner.
If you are interested in commissioning a painting, please email me, amytigner@yahoo.com